How to recruit and retain better for the modern entry-level sales role | Comment & Opinion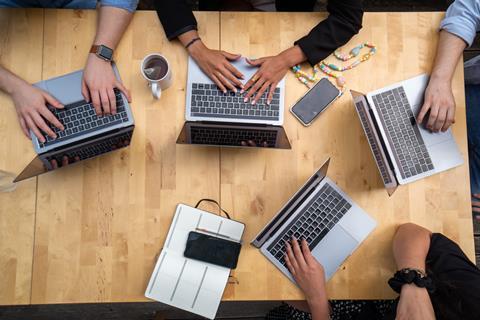 Picture a stereotypical salesperson in your head. What do you imagine?
I'll wager one of a couple of things. Either a Del Boy character flogging knock-off antiques out of a suitcase. Or more of a Jordan Belfort, aka the Wolf of Wall Street, strutting around in designer suits and fast cars.
I'm exaggerating, of course, but the sentiment still stands. These common stereotypes are arguably one of the reasons we're struggling with a lack of salespeople in our industry right now. The result is record vacancies and salaries inflated beyond all recognition as a way to plug the gap.
It's an urgent problem and one that brands are reporting to our graduate recruitment team day in and day out.
So, in response to this cry for help, here are my thoughts and solutions on the current sales graduate shortage.
Throwing money at the problem isn't the solution. We must think far more strategically about how we recruit salespeople and how we communicate what the job actually entails. In a unified industry effort, we need to start educating younger recruits on how incredibly varied, challenging, and exciting a career in sales can be. So how can we do that?
Number one, we need to talk more digitally. The truth is, sales has undergone a dramatic transformation. Take the huge role that tech and data-driven insights now play in how sales teams understand the needs of their customers. Or the fragmentation in grocery channels that see 'selling' taking place across brand new platforms and utilising a brand-new array of digital tools and techniques.
This transformation is exciting and brands that talk this language excite the digital-first generation. Create job descriptions that outline the diversity of the role – get them excited about it.
Second, think more broadly about the role itself. Create hybrid roles that match up a sales function with another role that utilises some of the same skills. Sales and marketing can be a great combination, for instance. Not only does it create opportunities for a person to stretch their more creative muscles, but there's plenty of natural overlap too that could have big benefits for your business. Equally, you could pair sales with more of an operational role, such as supply chain management or even product development. However you mix and match, by creating these hybrid roles you will bring better graduates through the door.
Third, challenge yourself on the title of the roles. Is there an opportunity to use these to garner more interest? For example, graduates are five times more likely to apply for a role titled commercial executive than they are field sales executive. You can then ensure the job description does the hard work for you by selling the intricacies of the role.
Our graduate recruitment team most commonly hears that the reason for regrettable candidate rejection is the graduate's failure to credibly answer one question: "So, why do you want to work in sales?" Graduates often struggle to offer a compelling answer – they simply don't know. Instead, focus on attributes and behaviours. You know sales, they don't. So look for the raw skills that you know work: sociable, personable, hard-working and eager to learn.
Finally, the number one reason for graduates leaving their new job is a lack of integration with the team. Once the best people join you, don't leave them out in the rain lugging boxes from convenience store to coffee shop. Make sure they spend time with the team, in the office, absorbing your brand. This will drive retention.
The bottom line is the status quo on sales can't remain. So let's inject greater creativity into the roles on offer, understand the negative perceptions of sales that are holding this younger generation back, and proactively educate them, both internally and externally, on what it really looks like to be a salesperson in 2022.
Successfully diffuse those Del Boy connotations and you'll bring them in, keep them and set your company apart.

https://www.thegrocer.co.uk/hiring-and-firing/how-to-recruit-and-retain-better-for-the-modern-entry-level-sales-role/670549.article